COVID-19 | The Pacific response: 9 December
COVID-19 | The Pacific response
Hugh McClure
---
American Samoa has denied a US Air Force plane stop-over access as it was revealed a passenger had tested positive for COVID-19, whilst border closures are having a significant impact on livelihoods in Papua New Guinea, Hugh McClure writes.
The territories of French Polynesia and West Papua continue to be the Pacific Island region's COVID-19 hotspots this week, as indicators point to a tapering of cases in Guam. French Polynesia has now recorded 15,107 cases and 79 deaths overall, while the provinces of Papua and West Papua have recorded 17,565 cases cumulatively. 
New cases have been detected in seven countries and territories this week. In Papua New Guinea (PNG) the cumulative COVID-19 case count has reached 671, with seven confirmed deaths; Fiji's count has increased to 44 confirmed cases; Guam has now recorded 6,872 cases and 113 deaths; the Northern Mariana Islands has recorded 109 cases; while New Caledonia has now detected 35 cases.
Here is a snapshot of policy responses to COVID-19 in the Pacific region, correct as of 12pm AEST, 8 December 2020.
The week in review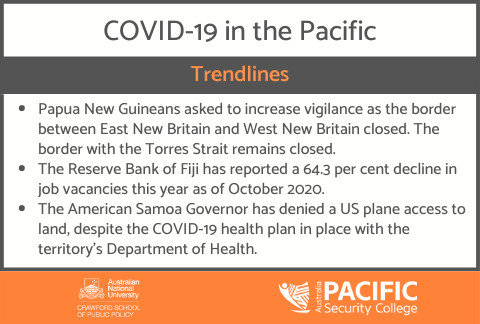 Entry points to East New Britain have been closed from West New Britain in response to the increasing number of COVID-19 cases. Further south in PNG, border closures between the Torres Strait Islands and PNG have come into the spotlight this week, with locals saying it is having a significant impact on livelihoods and community connections, with families and trading routes disrupted.
PNG Pandemic Controller David Manning has called on the community to remain vigilant in the lead-up to Christmas, noting that increased travel to visit family and friends could increase the COVID-19 transmission rate. 
The Reserve Bank of Fiji has reported a 64.3 per cent decline in job vacancies in the year as of October 2020. Also in Fiji, the Permanent Secretary of the Ministry of Health has stated that the COVID-19 Risk Mitigation Taskforce will only allow new investment ventures into the country if the risk they pose to the country's public health is deemed to be low.
Two sailors who arrived in Fiji on a freighter ship from Tonga have tested positive for COVID-19, and they are now in isolation at Navua Hospital. Meanwhile, 25 people who made contact with a vessel in Lautoka Port have been taken into quarantine after it was announced that the ship had a suspected case of COVID-19 on-board. 
Vanuatu students studying in Fiji have arrived home on the country's final repatriation flight before Christmas. Meanwhile, a repatriation flight from the US to Samoa has been approved for January 2021. Elsewhere, travel looks to still be a way off for Cook Islanders, with the New Zealand Minister for COVID-19 Response announcing that there is no hope of a travel bubble between New Zealand and Cook Islands before Christmas. 
A diplomatic stoush is unfolding in American Samoa this week. The governor's office denied a US Air Force flight carrying 31 passengers access for a one-night stop-over in quarantine on route between Hawai'i and Antarctica. The flight was denied after it was found that a passenger had tested positive to COVID-19. The passenger and close contacts were removed from the flight prior to take-off. The governor's refusal comes despite the American Samoa Department of Health having developed cooperative plans to facilitate the US mission. 
New analysis shows that Guam is making inroads in cutting its COVID-19 infection rate. The rate of community transmission in the territory has begun to fall. The news comes as thousands of vaccines are due to arrive on Guam later this month, with Governor Guerrero announcing that her administration is working to coordinate the rollout.
In the nearby Northern Mariana Islands, 10 ultra-cold freezers have arrived from South Korea in preparation of a future vaccine. The latest case of community transmission in the Northern Mariana Islands was recorded in August. 
Finally, the Solomon Islands' State of Emergency has been extended until April 2021.
View the interactive COVID-19 response map here.
And view the full dataset compiled by the Pacific Security College here.
More Stories
Pacific Security Snapshot | 11 May 2023
The security stories shaping the region ➣ Australia announces Pacific support package ➣ United States President Joe Biden to visit the Pacific ➣ Embassy of the United States opens in Tonga ➣ Chinese Special Envoy for the Pacific visits Samoa ➣ 14th Pacific Heads of Health meeting in Fiji ➣ Violence in Papua New Guinea's Porgera…
Blog - 21 Dec 2022
Is aid to Tonga reaching those who need it most?
When Tonga experienced a wave of disasters earlier this year, the world rallied in support, but the Tongan government and its international partners must work hard to ensure aid can reach those who need it most, Telusa Fotu Tu'i'onetoa writes. Tonga is one of the most natural disaster prone nations on earth. From October to…